Hugh C. Hyde Living Writers' Series
The Living Writers' Series at SDSU is one of the longest continuously running series in the nation.
Authors who have visited us in the recent years included: Edward Albee, Derek Walcott, Billy Collins, Philip Levine, Norman Rush, Alice Fulton, Gary Snyder, Carol Muske, Nahid Rachlin, Tess Gallagher, Dorianne Laux, Judy Grahn, Toi Dericotte, C.K. Williams, Rick Bass, David Mura, Clayton Eshleman, Jerome Rothenberg, Debra Magpie Earling, Wanda Coleman, Alicia Ostriker, Al Young, Alan Gurganus, and Maxine Hong Kingston.
Also, our alumni, such as award-winning authors Sherod Santos, Richard Katrovas, Susan Luzzaro, Diana Garcia, Susan Vreeland, and others have participated in these events. Numerous publishers, such as Ted Pelton of Starcherone Books, Mathew Zapruder of Wave Books, Kate Gale of Red Hen Press and others also participate in our panels on publishing.
Our events are free and open to the public.
For more information, please contact Meagan Marshall at [email protected] or join our group on Facebook.
Fall 2023 Season
In-Person Event— Wednesday, September 20th at 7 p.m. in Love Library, Room 430: Award-winning Author and Co-Director of SDSU's MFA Program in Creative Writing, Stephen-Paul Martin
Stephen-Paul Martin will read from his most recent book, TwentyTwenty. Martin has been described as "the American Albert Camus, if Camus had a sense of humor."
Stephen-Paul Martin has published over twenty fiction, poetry, and non-fiction books. One of his short story collections, The Gothic Twilight, was nominated for the National Book Critics Circle Fiction Award in 1993. His most recent book is TwentyTwenty (Spuyten Duyvil, 2023). His other fiction collections include The Ace of Lightning (FC2, 2017) and Changing the Subject (Ellipsis, 2010). From 1980-1996 he co-edited Central Park, an internationally acclaimed journal of the arts & social commentary. His writings have appeared in over 200 periodicals over the past 30 years, in several different languages. He received his doctorate from New York University in 1983.
In-Person Event— September 27th at 7 p.m. in Love Library, Room 430: Award-winning Poet, Vandana Khanna
Vandana Khanna will read from her collected works, including her recent poetry collection, Burning Like Her Own Planet, which has been described as "…gorgeous, emotionally complex, always dazzling."
Born in New Delhi, India, Vandana Khanna is a writer, educator, and editor. She is the author of three collections of poetry, Train to Agra, Afternoon Masala, and Burning Like Her Own Planet, as well as the chapbook, The Goddess Monologues. Her work has won the Crab Orchard Review First Book Prize, The Miller Williams Poetry Prize, the Diode Editions Chapbook Competition, and the Elinor Benedict Poetry Prize. She has been published widely in journals and anthologies such as The New Republic, Academy of American Poets' Poem-a-Day, New England Review, Guernica, and The Penguin Book of Indian Poets.
In-Person Event— Wednesday, October 18th at 7 p.m.: The Laurie Okuma Memorial Reading presents, Award-winning Author, Tracy Badua
Each semester, thanks to an endowment created by her family and friends, the Laurie Okuma Memorial Reading honors the memory of SDSU alumna, Laurie Matsueda Okuma. The fall 2023 Okuma Author, Tracy Badua, will share excerpts from her recent novel, This Is Not a Personal Statement. Badua has been lauded as "an author to watch."
Tracy Badua is an award-winning Filipino American author of books about young people with sunny hearts in a sometimes stormy world. By day, she is an attorney who works in national housing policy and programs, and by night, she squeezes in writing, family time, and bites of her secret candy stash. She lives in San Diego, California, with her family.
Virtual Event— Wednesday, November 1st: Acclaimed Author, Raul Palma
Raul Palma will read from his short story collection, In This World of Ultraviolet Light, which has been described as "…fiction to steal the breath of any reader, from any background", and answer questions from attendees.
Register in advance for this event.
Raul Palma is the author of A Haunting in Hialeah Gardens (forthcoming from Dutton), and In This World of Ultraviolet Light. He is a member of the fiction faculty at Ithaca College, and the Associate Dean of Faculty and New Initiatives in Ithaca College's School of Humanities and Sciences. Palma has also taught at Elmira Correctional through Cornell's Prison Education Program. His stories and essays have appeared in Alaska Quarterly Review, Chattahoochee Review, the Greensboro Review, Hayden's Ferry Review, Smokelong Quarterly, and the Sonora Review. His very short fiction was included in Best Small Fictions 2018 (selected by Aimee Bender).
In-Person Event— Wednesday, November 8th at 7 p.m. in Love Library, Room 430: Award-winning Poet and Essayist, Maya Tevet Dayan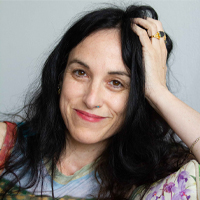 Maya Tevet Dayan will read from her most recent publications including the poetry collection, Wherever We Float, That's Home. This event is sponsored by the Murray Galinson San Diego-Israel Initiative (MGSDII).
Maya Tevet Dayan is an Israeli-Canadian poet and writer. She's the recipient of the Israeli Prime Minister award for literature for 2018. Poems from her three critically acclaimed poetry collections have been translated into English, Spanish, German and Chines. Her poem "Foreign-ness" was a finalist for the Rattle Poetry Prize for 2019, and her poem "Cotton" won the 2021 Rhino translation prize. Her latest book, Feminism, as I Told it to My Daughters (Israel, 2023) is a short memoir in essays based on her highly popular feminist columns and essays published over the years in "Haaretz" magazine.
Virtual Event— Wednesday, November 29th: Award-winning Poet and Chancellor at the Academy of American Poets, Marilyn Chin
Marilyn Chin will read from her most recent poetry collection, Sage, and answer questions from attendees. Chin has been lauded "as one of the most prolific and admired Asian American writers on the poetry scene today, [she] keeps readers guessing as each of her successive publications showcases new poetic strategies of what we might call — for lack of an appropriate, dictionary-backed adjective — her fusionary poetics."
Register in advance for this event.
Marilyn Chin is an award-winning poet and author. Her books of poems include Sage, A Portrait of the Self as Nation, Hard Love Province, Rhapsody in Plain Yellow, Dwarf Bamboo, and The Phoenix Gone, the Terrace Empty. She also published a book of magical fiction called Revenge of the Mooncake Vixen. In addition to writing poetry and fiction, she has translated poems by the modern Chinese revolutionary poet Ai Qing and co-translated poems by the Japanese poet Gozo Yoshimasu. Chin has won numerous awards, including the Ruth Lilly Prize for lifetime achievement in poetry, the American Academy of Arts and Letters award, the United Artist Foundation award, the Radcliffe Institute Fellowship at Harvard, the Anisfield-Wolf Book Award, the Rockefeller Foundation Fellowship at Bellagio, the PEN-Josephine Miles Book award, two NEAs, the Stegner Fellowship, and others. She has read and taught workshops all over the world.
Past Seasons